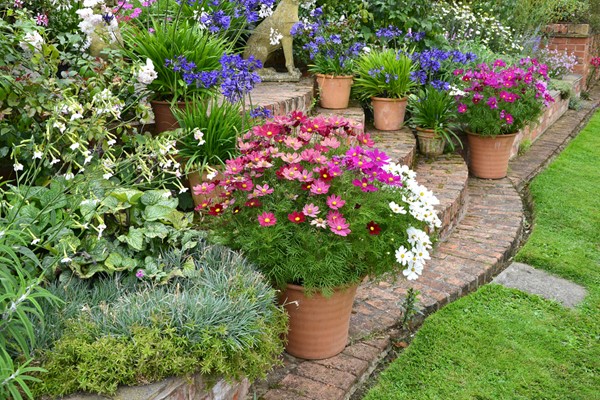 Spring season is one of the most beautiful seasons in the year. Apart from the fact that the winter is winding down to an end, there's just a joyfulness that seems to hover in the atmosphere. Do you wonder how to get your home into the general spring atmosphere of your neighborhood? The following tips will simplify it for you.
One of the most natural things you should start with is flower pots. Depending on your taste, flowerbed or porch space, and on your budget, you may decide to opt for annuals in pots or perennial flowers in beds. They both work just as well. You should start collecting pots for your floral mixtures as soon as possible, because the more pots you have, the better they will look clustered on your porch. If it is still cold in your area, start the pots indoors. Set them out on your porch during the warmest times of day and bring them back inside if you think it might freeze overnight.
Look for outdoor lighting too so that all your hard work decorating with flowers doesn't go unnoticed. You may either decide on solar lights or wired ones, but a rule of thumb is to allow for about fixture for every four or five feet of walkway or flowerbed.
Your spring decorations should also fit into a general color scheme. You may decide to do several types of flowers in the same colors or contrast the colors for a more contemporary feel. Ornamental trees and bushes are simply must-have items to give depth and texture to your yard. Yours might not look as perfect as a landscaper's efforts but designing your yard is something you will be proud to have done. You may decide to consult a nursery or garden center of a home improvement store to learn which trees, bushes, and flowers grow well together.
Add other touches to the rest of the home such as a spring wreath on the front door. Or, add flower boxes outside your windows. Plant bulbs in alternating rows like little soldiers. There aren't specific rules about what goes where; the general idea is to bring that springtime feel into the very essence of your yard. For an even more awesome experience, you could purchase spring-themed throw pillows in any of your preferred colors to set in a wooden rocker or Adirondack chair on your porch. Not sure of what to buy? Take a trip to an outdoor furniture store, and you will find yourself spoiled for choice about spring decorations.